Order Pickers
EO Order Pickers
In the materials handling world, order picking is the most labour-intensive and expensive. By paying careful attention to process design, it's possible to keep these costs under control and make your warehouse more efficient and profitable.
Description
Industry Leading Efficient Performance
Order picking is labour intensive. The best way to maximise efficiencies in an order picker operation is by understanding that it all comes down to the operator.
That's why we've designed a truck to allow the operator to do their job as safely, efficiently and as easily as possible. By doing this we can increase productivity and decrease costs related to your total cost of operation. We understand that order picking applications can require customisation.
With the TCM Order Picker range we've got a history of building trucks and adapting them to unique working environments.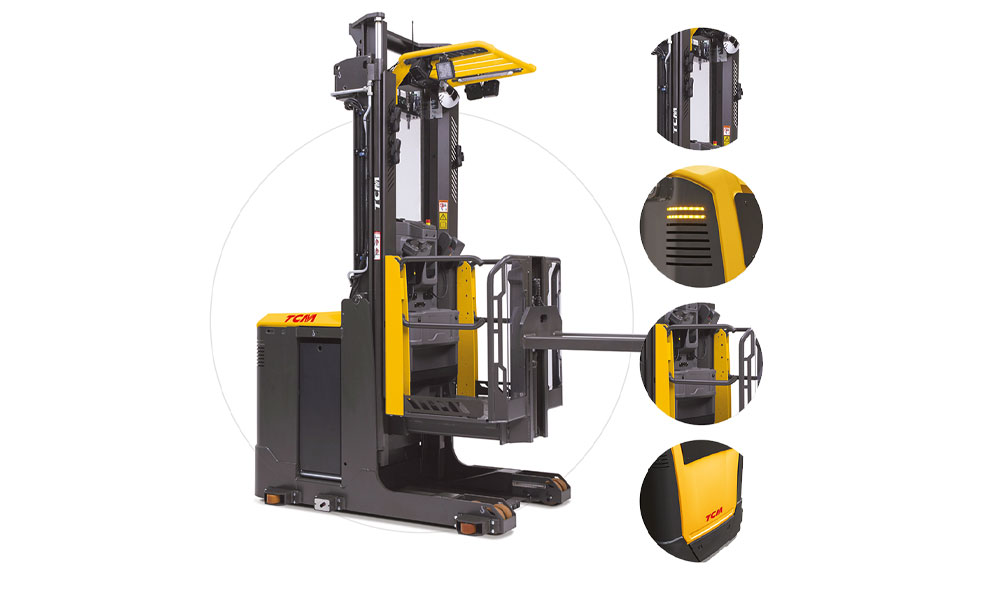 Visibility maximised. Pro-vision mast. Maximised vision where possible.
Warning lights positioned to give warning but limit distraction. Inside each straddle leg, on front corners of chassis.
Driver Presence Check: Adjusts speed and driving functions depending on the presence of the operator.
Automatic stop if side gates are not lowered when driver platform above 1200.
Dynamic corner control.
Wrap-around bumper to reduce impact damage.
Operator Comfort For Increased Productivity
Driver Presence Sensor – no need for a dead man's switch. This means the operator doesn't have to stand in one place while driving and emits a trip hazard.
Maximized space throughout. The spacious cabin makes the operator more productive, safe and allows room for all the tools they need for the job.
Low step height – less effort for the operator.
Fully adjustable controls on the front and back of cabin.
Comfort rail.
| MODEL | CAPACITY (KG) | TRUCK WIDTH(MM) | MAXIMUM PLATFORM HEIGHT(MM) | MAXIMUM PICKING HEIGHT(MM) | PLATFORM WIDTH(MM) | TRUCK LENGTH INCLUDING FORKS (MM) |
| --- | --- | --- | --- | --- | --- | --- |
| EOM | 1000 | 810 | 1200/ 1800 | 2800/ 3240 | 810 | 2805/ 2825 |
| EOC | 1000 | 970/ 1070/ 1170 | 8250 | 9850 | 950/ 1050/ 1150 | 3135 |
| EOH | 1250 | 1170/ 11350 | 10500 | 12100 | 1150/ 1300 | 3290 |