Order Pickers
LO Order Pickers
In the materials handling world, order picking is the most labour-intensive and expensive. By paying careful attention to process design, it's possible to keep these costs under control and make your warehouse more efficient and profitable.
Description
Low Energy Consumption, Greater Productivity
At the heart of every LO Series model is hyper intelligent software that moulds the truck's behaviour to your operator and operations for consistently easier, steadier and safer performance. At 14% more efficient than its closest competitor, it is top if its class for lean performance.
Powerful drive motor provides excellent traction and adjustable acceleration up to speeds of 13 km/h, boost mode for fast acceleration, efficient deceleration and brake force – for smooth, quiet and controlled operation, extended shift length and lower maintenance requirements.
Intelligent curve control automatically adjusts truck speed to steer angle for increased safety, improved productivity and reduced tyre wear.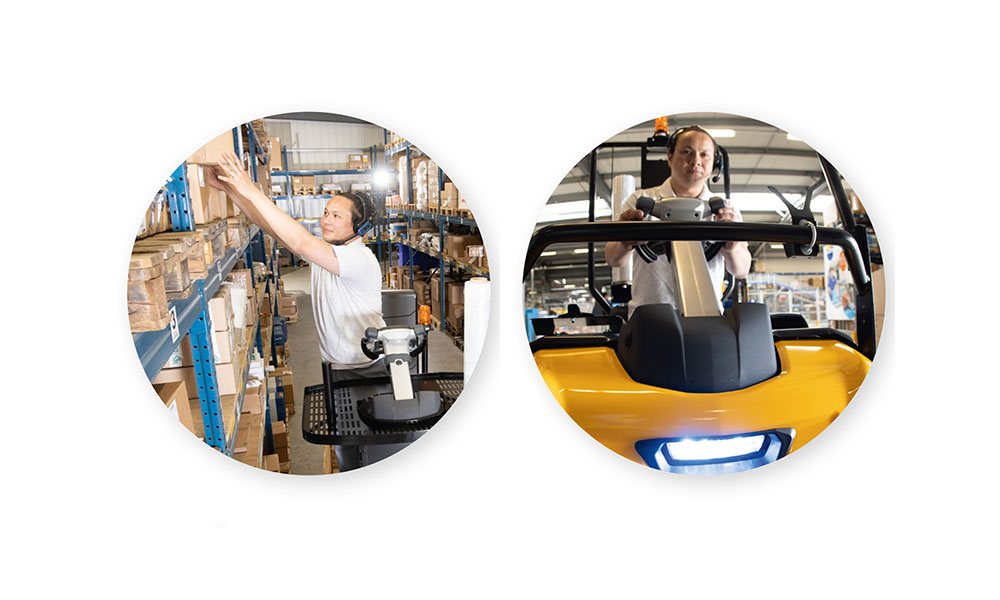 10-degree safety angle – keeps operators' feet safe when travelling in side-steering mode.
Small turning circle, responsive steering and compact chassis allows exceptional manoeuvrability.
Advanced electric steering – for precise control at speed, automatic speed reduction in curves and automatic drive wheel centering.
Operator Presence Sensor covers the whole floor, eliminating the need for a dead man's switch – a common trip hazard, while allowing operators to move freely and comfortably.
Operator Comfort For Increased Productivity
100-degree steering angle – ensures exceptional manoeuvrability even in tight spaces.

Next-generation Xcontrol – steering wheel absorbs vibrations and shocks.

Class-leading lift height – up to 220 mm for easy, safe handling on loading docks and ramps.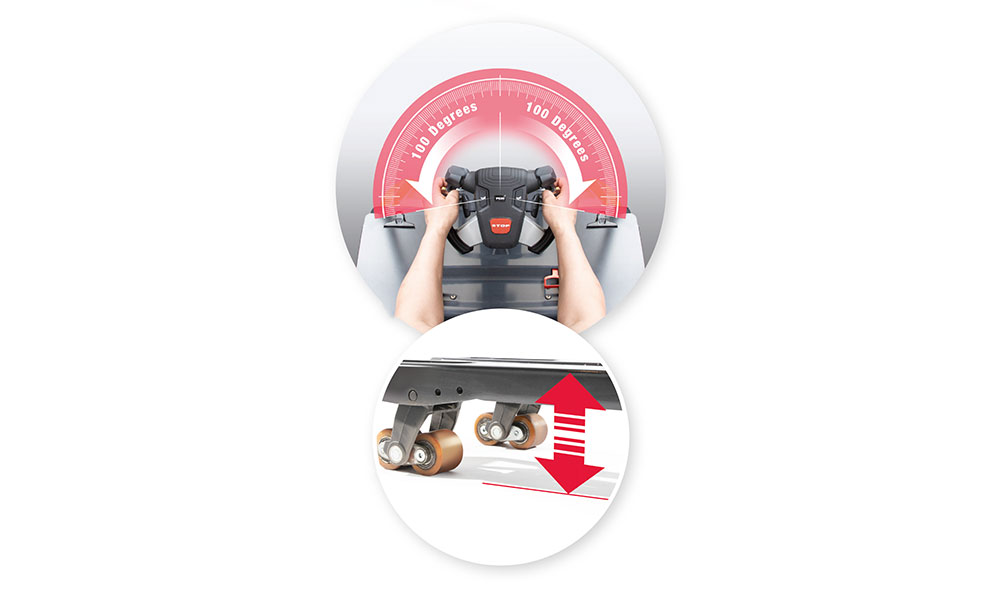 Cost of Operation
Operators represent a large cost in operations. When it comes to the efficiency of the truck we invest in the operator, making them more comfortable, therefore more efficient. | MODEL | CAPACITY (KG) | TRUCK WIDTH(MM) | MAXIMUM PLATFORM HEIGHT(MM) | MAXIMUM PICKING HEIGHT(MM) | TRUCK LENGTH INCLUDING FORKS (MM) | MAX LIFT HEIGHT(MM) |
| --- | --- | --- | --- | --- | --- | --- |
| LO20N2 | 2000 | 800 | 123 | 1723 | 2421 | 220 |
| LO20N2P | 2000 | 800 | 1000 | 2600 | 2421 | 220 |
| LO25N2 | 2500 | 800 | 123 | 1723 | 2421 | 220 |
| LO25N2P | 2500 | 800 | 1000 | 2600 | 2421 | 220 |
| LO12N2F | 1200 | 800 | 123 | 1723 | 2471 | 800 |
| LO12N2FP | 1200 | 800 | 1000 | 2600 | 2471 | 800 |