We have always, and will always, try to strive for exceptional customer service and with this in mind we would like to share a story of how we went further, at shorter notice,  to ensure a special painting was transported safely and most importantly, made our customer happy.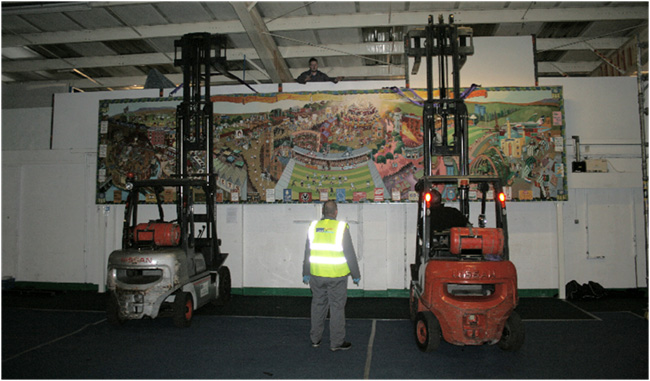 A normal Monday morning at CAM Fork Lift Trucks Ltd; Elaine, our Hire Administrator, is busy on the phones solving customers short term hire needs, when she receives an unexpected call –  a special one-off job in conjunction with Museums Sheffield. It soon becomes apparent that this job is going to be a little bit different – "Could we help with the removal and transportation of a rather awkward load?" –  to be exact it was to remove and transport a 9m long painting by local artist, Joe Scarborough, who is famous for painting humorous scenes depicting real-life images in and around South Yorkshire.
This particular painting had been commissioned some time ago by Sheffield Council and showed a panoramic view of the city, conveying both the life of Sheffield's people and the city's history. For some time this painting could be seen in the wall's of Sheffield's now-defunct Castle Market, before going in Deborah Egan's Blue Shed event space.
This is where CAM come 'into the picture'… challenged to assist with moving Joe Scarborough's valuable painting to another new home, WITHIN 24 HOURS, armed only with the knowledge that it measures 9m x 2m and with an unknown weight, estimated to be somewhere between 1 and 4 tons! Initially, the CAM team visited the painting in its current setting to gain an insight into what the job would entail and discovered that it was supported on metal stands and mounted to the wall, so there would be no way of knowing the actual weight until it was suspended on lifting slings! A daunting task – given that the high-value painting took the artist 9 years to complete!!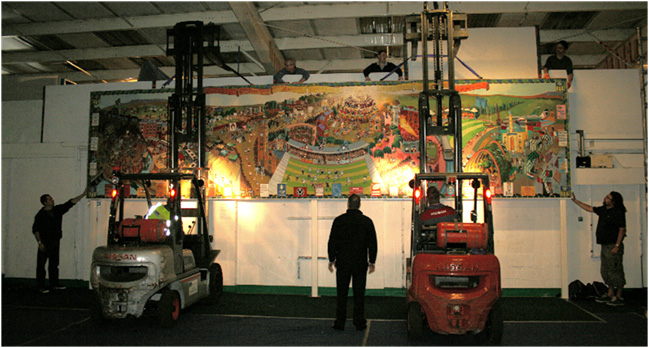 However, here at CAM Fork Lift Trucks we rose to the challenge before us, using two of our 3 Ton forklifts, sourcing in special lifting slings to minimise the risk of damage, and two of our most Skilled Engineers as Forklift Operators to carry out the tandem lift, we far exceeded our customer's highest expectations.
The painting is now safely in its new home and, best of all… still in one piece!!!
The painting is so large that it will not go on show at Weston Park until 2015 when the only wall at the museum large enough to hang it on will be specially cleared to accommodate it – we'll be sure to keep you updated when it goes on display.
For Museums Sheffield's current offerings please visit; https://www.museums-sheffield.org.uk/
Testimonial 
Now and again we get a hire request that many other companies would shun, but we pride ourselves in achieving great customer service, even with the more unusual requests. What makes these unusual requests even more rewarding is the appreciation received from customers, in this case from Sian Brown, Curatorial Services Manager for the Museums of Sheffield;
"I just wanted to drop you a quick email to thank you for all the help you gave with the movement of the Joe Scarborough painting on Tuesday.
I really appreciate how quickly you managed to respond to our request and the excellent service you provided. The team you sent to move the painting were fantastic and made the process extremely straight forward so please do pass my thanks on to them.
If we ever need a forklift truck again we'll be coming straight back to CAM Fork Lift Trucks!
Best wishes and once again many thanks,"
Sian Brown
Curatorial Services Manager
Graces Gallery, Surrey Street, Sheffield, S1 1XZ